7° Trofeo Misericordia – Save the children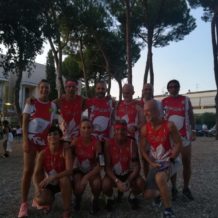 Mercoledì 11 Settembre 2019 si è svolta 2° edizione del "Trofeo Misericordia di Sesto Fiorentino – SAVE THE CHILDREN", una gara podistica di 5 km e 10 km su strada, organizzata dalla "Confraternita di Misericordia di Sesto Fiorentino" in occasione della annuale Festa della Misericordia.  Partecipando all'evento si è contribuito a sostenere l'attività di "Save the children", una O.N.L.U.S. di rilevanza internazionale che dal 1919 lotta per i diritti dei bambini e per migliorare le loro condizioni di vita in tutto il mondo.
Il ritrovo presso la "Misericordia di Sesto Fiorentino", piazza San Francesco 38, Sesto Fiorentino (Firenze). Al termine della corsa c'è stata la possibilità per tutti gli atleti di cenare presso il ristorante della Misericordia. Quasi 300 partecipanti per una non competitiva di fine estate è stato un bel successo per il comitato organizzativo. Ben 7 Polipodisti hanno partecipato divisi tra la corsa di 10km e la passeggiata.